A global chain of value-education classes for children. Our aim is to inspire and enable children to lead a meaningful life, in line with the teachings of Enlightened Beings.

Unfolding the divinity in little hearts
4 - 8 years
A learn-through-fun value-education programme inspired by the teachings of spiritual masters from different religious traditions.

Living the Jain way
9 -12 years
A modern pathshala and personal development programme to revive interest and participation in the Jain way of life.

Being rooted in wisdom
13 - 16 years
An interactive self-improvement programme that encourages making wise choices and living purposefully.
OTHER PROGRAMMES
We believe it is important that schools, parents and volunteers are also offered opportunities for their own personal growth and learning, professionally and personally.
Shrimad Rajchandra Divinetouch offers an array of programmes for the various sections of the society.
VIEW ALL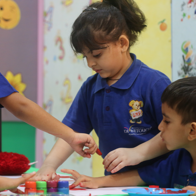 Enroll Your Child
Your child can join your nearest Shrimad Rajchandra Divinetouch centre, click here for further process of enrolment.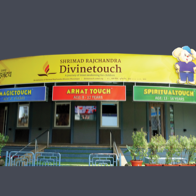 Open a Centre
If there is no Shrimad Rajchandra Divinetouch centre in your vicinity, you can start one yourself!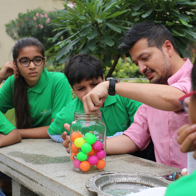 Become a Facilitator
Facilitators help children explore our signature curriculum and lead them on their journey inwards.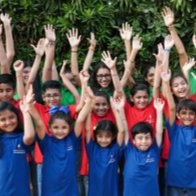 Make a Contribution
We charge subsidised fees so that the maximum possible number of children can start their journey of inner awakening.
TESTIMONIALS
"It was a great pleasure and an honour for me to be present for the Inaugural Ceremony of the Spiritualtouch programme for teenagers. I am delighted to have had a chance to learn about this new programme and look forward to sharing the information with others who are interested in truly holistic development for teens, with special emphasis on spirituality and service to others."
"Current educational systems, being exam-focused and seeing children as empty vessels to be filled with knowledge, do not encourage children to develop self-awareness and personal values. This is where Shrimad Rajchandra Divinetouch can help. A note on teacher values at Shrimad Rajchandra Divinetouch: It takes a skilful teacher to allow someone the space to develop their own values without influencing their choice."
"Shrimad Rajchandra Divinetouch has been one of the pioneers in developing value education programmes. It has started a movement to drive value education amongst children, especially at a time when the values of an individual are fast deteriorating. The children do not feel they are attending any classes. These children I'm sure will be the brand ambassadors of success with high morals for holistically developing millennials."
252 Children Centres Across the Globe North
America
40 Europe
21 Middle
East
7 India
170 South East Asia
10 Australia
3
North
America
21 Europe
21 Middle
East
21 India
21 South East Asia
21 Australia
21
Africa
21
North
America
21 Europe
21 Middle
East
21 India
21 South East Asia
21 Australia
21
Africa
21
North
America
21 Europe
21 Middle
East
21 India
21 South East Asia
21 Australia
21
Africa
21
North
America
21 Europe
21 Middle
East
21 India
21 South East Asia
21 Australia
21
Africa
21